The floowing area are provided freely utilised in the centre.

Reception, Lobby, Magazine corner and Study space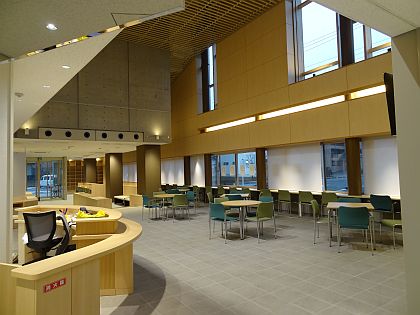 Reception: Any queries or application to be contacted.
Lobby: Great time spending with play card, Othello, Igo and Shogi during your Centre visit.
Study space: There is plenty of seating at the long sharing and partitioned tables.
Magazine corner: There is plentytypes of magazines and news papers.
The picture is taken from the play room to showing the reception in the left, the magazine corner and the study space through the lobby.
Lobby and Terrace deck in the 2nd floor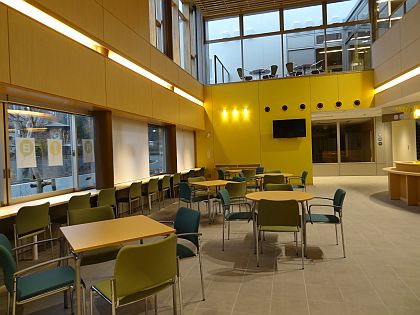 The picture is taken the terrace deck in the 2nd floor from the lobby.
A seasonal showpiece is displaied beneath the TV. Please enjoy it while your visit.
Cafe lounge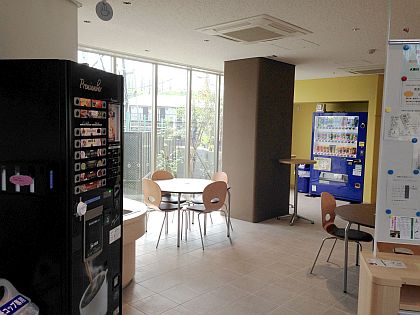 Great for grabbing a quick bite to eat or a coffee during your Centre visit
A soft-drink vending mathine and coffe server are available.
Your clean-up prosedure after the usage of the space is always requested.
Lobby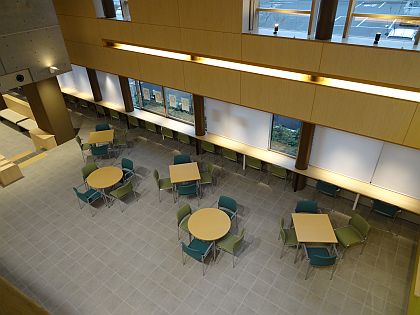 Overview of the lobby taken from the 2nd floor.
As it is shown in the picture, the lobby is very bright by the wide clean windows.
Eating is permitted since April 2018 and please wipe off a used table when you leave.
Igo, Shogi, Othello and playing card is always waiting for you.
Please contact the reception for play them.
Chiled-rearing Play room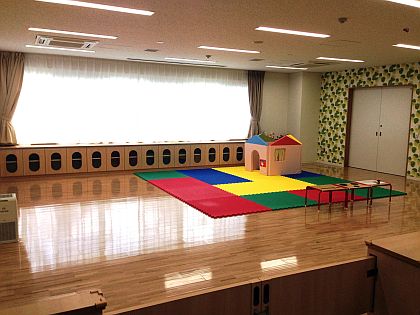 The picture is taken from the entrance.
This room is provided for babies and little children and their parents.
There are a diaper changing tabel in the baby feeding room and hot water for milk.
There is no need to ask a reception for usage of the room.
The Tama nursery school opens a visiting school in every Thursday except for a public holiday.
Ping pong is avalable after 4 pm for Primaly and Junior high school students. Please follow the playing rule.
Baby feeding room and Kids library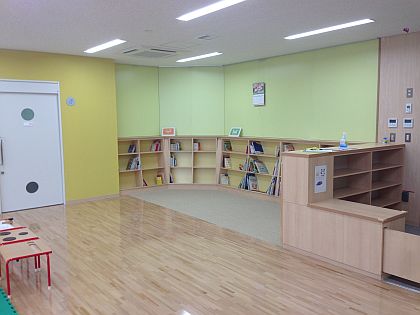 This picture shows a baby feeding room and the Kids library in the Child-rearing Play room.
A request note is probided for your comments and request. Please feel free to write down your idea.
The baby feeding room is allowed to eat in addition to drinking in the Child-rearing Play room.
Hole (2nd floor)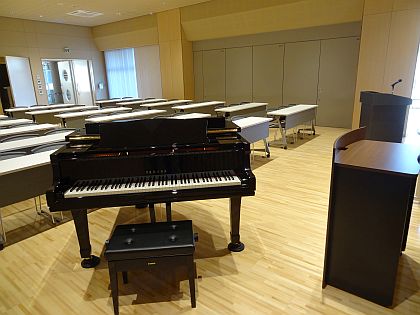 Space:113sq.m, Capacity:80 people, Grand piano is avalable.
No food nor drink
Fee: forenoon\1,190, afternoon\1,360, evening\1,530
Grand piano: forenoon\210, afternoon\240, evening\270
Meeting room 1 (2nd floor) Connecting use is avalable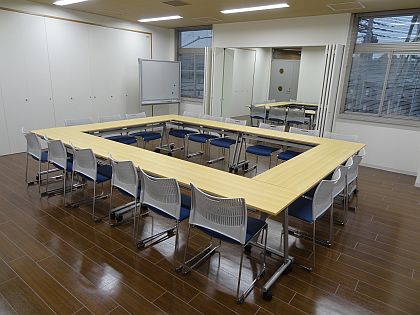 Space:36sq.m, Capacity:18 people
No food nor drink
Full-length mirrors are equipped on the wall.
Fee: forenoon\380, afternoon\430, evening\490
Meeting room 2 (2nd floor) Connecting use is avalable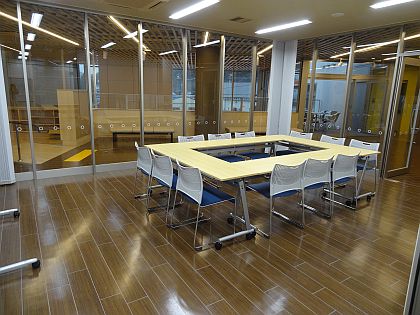 Space:27sq.m, Capacity:12 people
No food nor drink
Very light room by the two-sided glass wall.
Fee: forenoon\280, afternoon\320, evening\360
Tatami room 1 and 2 Both room can be connected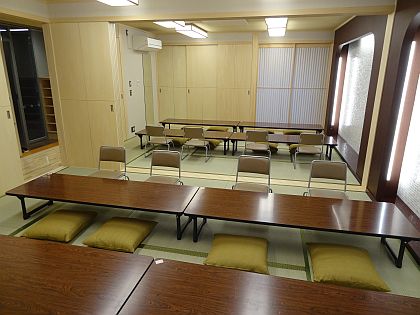 Space: 15sq.m each (10 mat room), Capacity:12 people each
No food but drink is allowed
Fee for each room: forenoon\150, afternoon\180, evening\200
Kara-Oke is functiond in the music roon in the 1st floor since 15th October, 2018.
See the detail of the Kara-Oke usage
Music room (1st floor)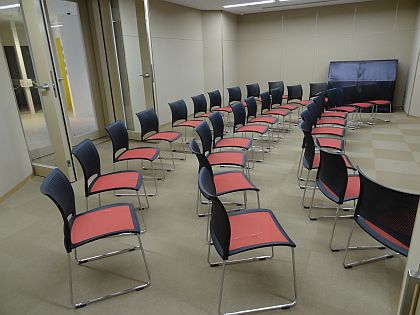 Space:45sq.m, Capacity:30 people, Up-light piano is avalable.
Soundproofing music room using a double door system.
No food nor drink
Fee: forenoon\470, afternoon\540, evening\610
Up-light piano: forenoon\100, afternoon\120, evening\150 See the detail of the Kara-Oke usage
Cooking room (1st floor)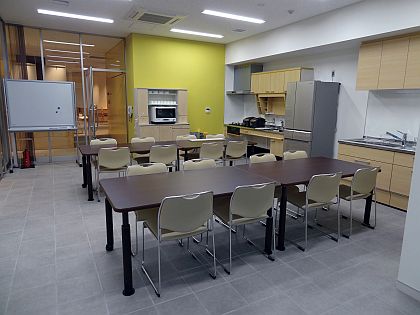 Space:27sq.m, Capacity:12 people
All free cocking facilities: Electric rice cooker, Microwave oven, Three burners gas stove, Thermos bottles, Pressure cooker set, Tableware, Cups etc.
Eating and drinking of soft-drink is permitted.
Very light room by the two-sided glass wall.
Fee: forenoon\380, afternoon\430, evening\490